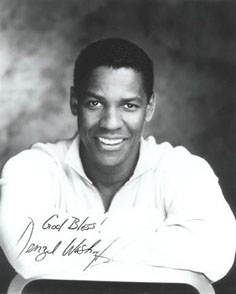 I was taking a little break from my prelims studying a few minutes ago to make some rice and gumbo to eat for the rest of the week, and I turned on NPR to listen to the news, while I was cooking. After the news, Fresh Air with Terry Gross came on. She was interviewing Denzel Washington about his new film
The Great Debaters.
You can listen to the interview
here.
At one point in the interview (around time code 27:10) , she asks him about growing up with a father who was a Pentecostal pastor. Then she asked him if he still belonged to the church (Church of God in Christ [COGIC]), which he affirmed.
Terry Gross then says (around time code 29:00), "I'm wondering if that has even more meaning because you were so brought up in it... since your father---""
And he says, "No it has meaning because it has meaning. Because I believe in the scriptures. I'm a God fearing man who believes what he reads in the Bible, and that has meaning. The meaning that it has is the effect that it has on me, on him [his father] and has on thousands if not millions of other followers. It is our faith in God and our belief in these commandments and in the stories in the Bible...I've read the Bible a couple of times, and I'm working through it again.... I'm now in the book of Romans and listening to the examples and teachings of Paul. The perserverance and the faith that he had in spite of what he was up against... And I'm inspired by those teachings of Paul, of Luke, of all of the apostles, and the great leaders of the Old Testament, as well, obviously, Abraham, Moses..."
Later he says, (around 31:00) "You have to understand. Everything that I've done in my career, and hopefully in my life, is a reflection of my spiritual upbringing and cultivation. I'm not saying I've been an angel all my life. Heaven knows, I haven't.... But you learn. Because I had to go to church, I rebelled against the church, and probably many people out there have gone through that based on whatever negative experiences they may have had. But I can say this to you, whatever success I have, has been a direct result of my faith and the grace of God in my life. period. It's not hanging out with the right people, and it's not studying at some school, or training at some acting school. It's a gift from God, I recognize that. We all have it.
"So, the question is not what you have or what you're going to do with what you have, but recognizing that we all have that gift. It is the grace of God and the gift of God. For some it's acting. Some, it's radio. Whatever your ministry, as they say, is. Understand where it comes from and don't be ashamed of it. If you've had negative experiences in church, (because I'm talking about spirituality and not religion. You know, religion is where man gets ahold of it, and, Lord knows, that's where the problems begin), but if there is something still tugging at your heart, and you're not satisfied, and you feel that there is something there, there IS something there. And don't be ashamed or afraid to continue that search. It led me through all kinds of religions.... One of my favourite books is Siddhartha, you know Herman Hesse's Siddhartha, because it is the journey. And the journey has led me back to the Bible[....]"
Because I need to get back to my books, I won't transcribe the rest of the interview here, but it's a great listen. If you're interested, you can go to the
website
and listen to it.
What an unexpected blessing and encouragement in a long day of studying!
(And I'm planning to stay away from blogging for the next couple of weeks before my prelims, but I was so touched by this interview that I had to post.)
For the photo credit (Entertainment Weekly, 20-Dec-2002, DETAILS: Best of 2002 featuring Denzel Washington as Entertainer of the Year [photo by Norman Jean Roy]) and bio of the actor, see
NNDB.