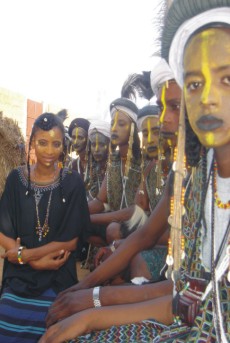 Here's a break down of the rest of the films we will be watching this semester. As usual, we are meeting Monday evenings at 6pm in 579 VH.
Nov 13: Zazzabi (no subtitles)
Nov 20: Babu fim (no meeting)
Nov 27: Bakar Ashana (no subtitles)
Dec 4: 'Yar Gagara (no subtitles)
Dec 11: Sanafahna (subtitles)
We will be continuing with the HIV theme for the next three weeks with
Zazzabi, Bakar Ashana, and 'Yar Gagara. Bakar Ashana
and
'Yar Gagara
will transition us from a focus on HIV to the alternate moral universe of karuwai. If people are up for one last final film on December 11, we will leave on a more positive note by watching
Sanafahna
, one of the most popular films in Kano, while I was there this summer. (Photo of actress Sadiya Muhd and dancers on the set of
Sanafahna
in Niger. From
http://www.mudubi.itgo.com/photo2.html
)
November 13

Zazzabi: Fever
Produced by Auwalu Madaki
Directed by S.I. Belaz
Sa'a Entertainment, Kano, 2005
Starring: Mansura Isa, Sani Danja, Ibrahim Maishunku, Nura Imam, Shehu Hassan Kano, etc.(No Subtitles)
A doctor who has quarrelled with his eldest son and kicked him out of the house. The doctor's beautiful university-educated daughter, who attracts the attentions of two handsome young men. The spurned son who becomes a policeman. An AIDS test that comes out positive. A mysterious murder. A dedicated investigator who interviews everyone involved, and a plot that keeps you guessing the whole way through.
November 27
Bakar Ashana: Burned out Match
Bright Star Entertainment, (date?)
(No Subtitles)
This film was banned by the Kano State Censorship Board and is not supposed to be available in the market. It delves into the world of karuwai (prostitutes) and the men who frequent them. A young man falls in love with a beautiful karuwa and wants to marry her... What will happen? If not for anything else, this film is worth watching for a couple of fabulous dance sequences. The storyline seems to be based loosely on Ibrahim Sheme's novel
'Yartsana
:
Babydoll.
December 4
'Yar Gagara: Rebellious Girl
Produced/Directed by Aminu Bala
Bright Star Entertainment, (date?)
(no subtitles)
Following the conventions of Hausa video films, this sequel to
Bakar Ashana
should be called
Bakar Ashana 2
. However (according to my informant), because
Bakar Ashana
was banned, the censorship board said that the film could not be named
Bakar Ashana 2
, because there was "no"
Bakar Ashana
1. I have not seen this one yet, so I can't give a synopsis.
December 11
(If everyone is up for it)
Sanafahna
: (the name of the heroine from Niger)
Produced by Aminu Sherriff
Directed by Nura Sheriff
Screenplay by Nasir Gwangwazo (the one who also wrote Waraka)
Starring Sadiya Muhammed, Aminu Sheriff, Ummi Ibrahim, Hafsat Sharada, Hammude Booth
Movie World in conjunction with Kumbo Production.
(with English subtitles)
Synopsis quoted from the vcd jacket cover:"...A young man finds himself embroiled in a web of cover-ups; on one hand to protect the lady he loves, on the other to save a second from impending doom.
From the simple Hausa life of Kano City to a colorful but complex nomadic culture of the beautiful hinterland of Niger Republic, three beautiful people are placed in an emotional dilemma.
...A conflict of nature, and cultures could not be more beautifully expressed..... (with time the truth shall dawn)"